A year ago I was contacted by Fabrique Fantastique to create some mood paintings of desolate landscapes for an upcoming project The Girl by Belgian visual artist Hans Op de Beeck. It tells the story of a girl on a journey through different sceneries which is showcased through various shots.  The final project is showcased here on Hans' website.
For one thing, I was interested in the workflow between an animation / production studio and a visual artist. On the other hand, I was curious to find out how my key arts could play a key role in their production pipeline.
Workflow
It was my task to breath live in the environments and depict a desolate mood. By doing so, I would set an overall tone for the project and its shots. For each shot they sent a pencil sketch from the storyboard to get me started with the right composition.
In other projects that I showcase here on my blog, I write about how I like to start with pencil sketches first to plot out my compositions. Similar to my other projects, the sketches actually turned out to be a good base to start from.
It allowed me to focus on the mood and light of each shot. Soon I was able to quickly create a couple of mood paintings (or key arts) for the 3d modelers. The various mood paintings were than used as a reference by the modelers. They used it to plot out the light and colors for each scene. By following this workflow and taking everything step by step, we were able to quickly go from a rough concept sketch to a final rendered and animated shot in 3d.
As an example of how I worked, I included an overview of the process below. You can find the provided sketch from the storyboard on the left. I placed the mood painting in the middle and the final 3d render on the right.

Below you can find a couple of other mood paintings I did for the project: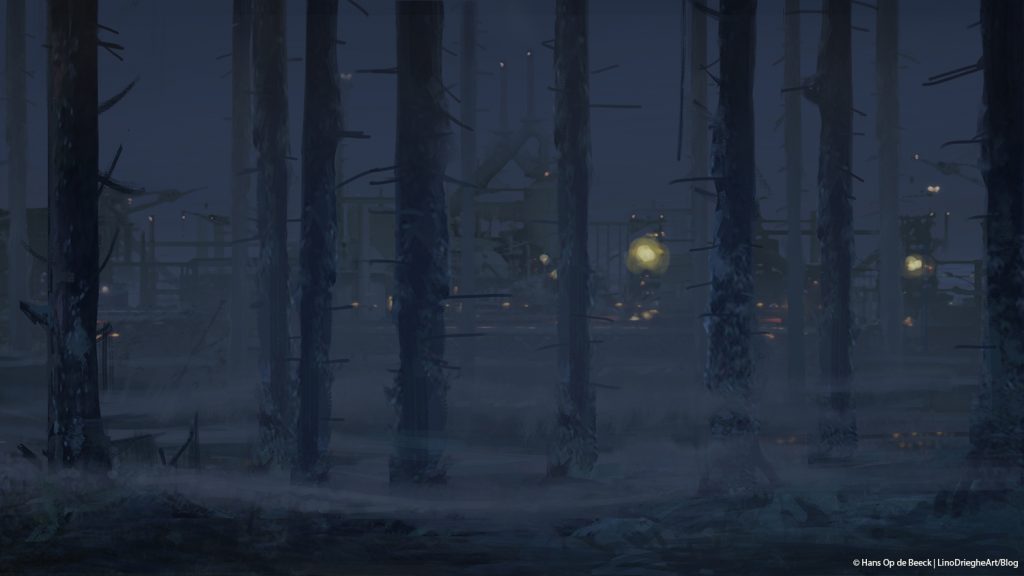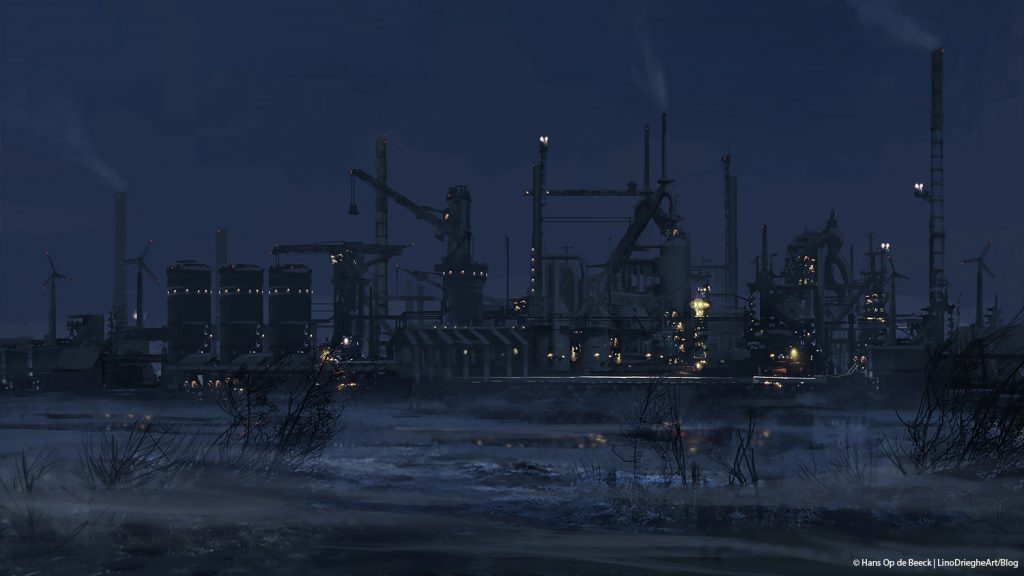 Find out more
The website 80 Level recently published an article about the production pipeline for environment art for games. I would definitely recommend to have a look at the website and read the article here.
Please consider sharing my blog!